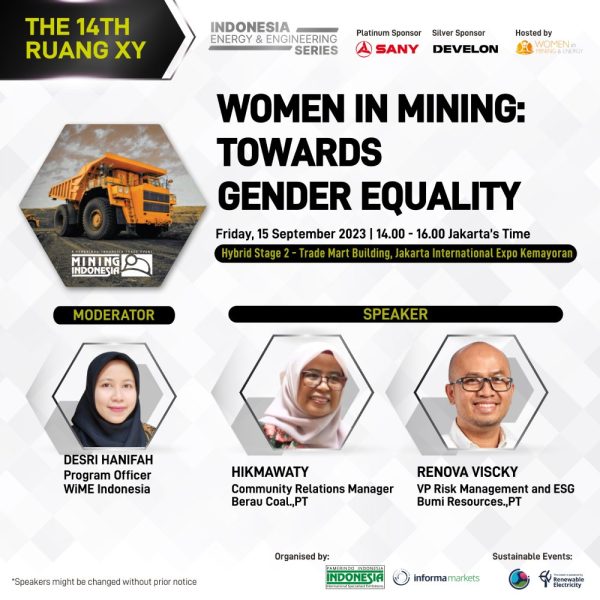 Day/Date : Friday, 15 September 2023
Time : 14.00 – 16.00 (Jakarta's Time)
Location : Hybrid Stage 2 – Trade Mart Building
Link : https://vexpo.iee-series.com/agenda/
The 14th Ruang XY event titled "Women in Mining: Towards Gender Equality" aims to address the underrepresentation and neglect of women's roles and contributions in the mining industry. The event, hosted by Pamerindo Indonesia in collaboration with Women in Mining & Energy (WiME), seeks to promote gender equality in the mining and energy sectors in alignment with the United Nations' Sustainable Development Goal (SDG) number 5: "Achieve Gender Equality and Empower All Women and Girls."
The event focuses on two key aspects:
Gender Equality: Identifying and analyzing women's participation levels in the mining sector to address gender disparities in opportunities, wages, and leadership positions. The seminar aims to uncover gender stereotypes that may influence women's roles in the industry, with the intention of providing necessary information for achieving gender equality in mining.
Women Empowerment: Active participation and opportunities for women in decision-making processes empower them and enable them to have a greater influence in the workplace. Empowering women in the mining industry contributes to achieving company goals, influencing inclusive policies, and serving as role models for other women pursuing careers in the sector.

Speakers:

Hikmawaty, Community Relations Manager PT Berau Coal
Renova Viscky, VP of Risk Management and ESG PT Bumi Resources

Moderator: Desri Hanifah, Program Officer WiME Indonesia