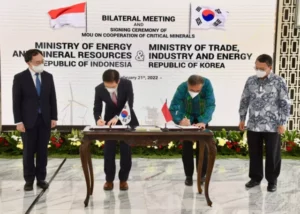 JAKARTA, TAMBANG – Pemerintah Indonesia melakukan kerja sama bilateral dengan Korea Selatan untuk memperdalam pengembangan mineral kritis. Hal ini ditandai dengan penandatanganan Nota Kesepahaman (Memorandum of Understanding/MoU) oleh kedua belah pihak.
Menteri Energi dan Sumber Daya Mineral (ESDM), Arifin Tasrif menyatakan bahwa kerja sama tersebut merupakan bentuk kolaborasi kedua negara sebagai tindak lanjut pertemuan The Indonesia – Korea Energy Forum (IKEF).
"Melalui MoU ini kedua negera dapat bertukar informasi dan sumber daya manusia di sektor critical minerals serta mendukung kerja sama proyek antar sektor swasta kedua negara," kata Arifin, dikutip dari keterangan resmi, Rabu (23/2).
Arifin mengakui sejak memiliki perjanjian antara Indonesia dengan Republik Korea terkait kerja sama di bidang energi dan mineral yang ditandatangani pada tahun 2002, kedua negara saling menjalin hubungan dengan baik di tingkat pemerintahan maupun sektor swasta.
Source: www.tambang.co.id